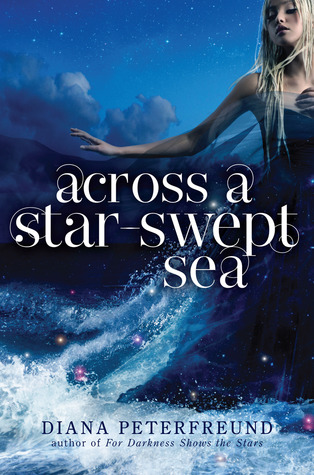 Across a Star-Swept Sea by Diana Peterfreund
Balzer & Bray, 2013
Centuries after the wars that wiped out most of the world's civilizations, the lone survivors of New Pacifica remain deeply divided. Both the island nations of Galatea and Albion bear the long term effects of the Reduction generations before, but handle it in much different ways. On Galatea, a revolution is rising up against the aristocracy they blame for their ancestors' suffering. Not only are people dying, but the upper class is being Reduced themselves. Except some are being rescued by the mysterious spy known as the Wild Poppy. Meanwhile on Albion, a young princess-regent struggles to maintain order in a court that limits her power. Luckily she has supportive friends, like Persis Blake, even if that girl is a spoiled and silly socialite. Except she isn't - Persis is the Poppy and far more clever than she can let on to keep her cover safe. When Persis's path crosses with that of Justen, a young Galatean medic seeking to distance himself from the revolution for more than a few reasons, he becomes her most important mission, but will all of their combined secrets cost her her country, her heart, or both?
This companion to
For Darkness Shows the Stars
is much more intricate than its predecessor. A retelling of the classic story
The Scarlet Pimpernel
, this tale is one not just of relationships, but of complicated political circumstances. As such, I had to read this book more slowly than the first. There's a lot to keep track of here - readers get in the heads of many different characters on both sides of this conflict, they all have secrets, and there's also the world building and science fiction aspects to keep straight.
The world Peterfreund has built here is a luscious and rich one, with layers of thought and intrigue. At times I did find it a bit overwhelming, but I eventually got the hang of it. The characters are what kept me engaged here. Persis is a remarkably smart girl and an adept spy in a nation that tells her because she is a woman - despite her aristo rank - she's not important. Her struggle with maintaining a facade as a stupid, silly thing was heartbreaking, especially in front of her parents who know how brilliant she really is. Justen too is at war in himself, feeling guilty over something he discovered and trusted to the wrong people.
While readers do not need to read Peterfreund's first book in this"series," I highly recommend that they do so - things will make much more sense if they do. (That book can stand on its own, whereas with this one, several prominent ccharactersfrom that novel come back in more than just a mere cameo appearance.) While Peterfreund confirmed to me on Twitter that there are no plans for a third book, I sincerely hope she changes her mind. I'm intrigued in this world and how it continues to evolve, and the ending of this novel certainly lends itself to more adventures.
Comments welcome, and, as always, happy reading!
Diana Peterfreund's Website
Diana Peterfreund on Twitter